Variable Speed Multifunction Air Tool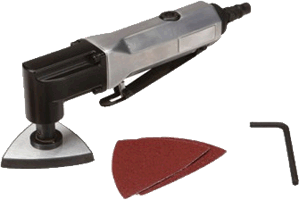 Item # 67538
This multi-use tool delivers up to 17,000 oscillations per minute - giving you precision control over tough jobs and detail work. Multiple attachments make it easy to cut wood, plastic, wallboard and more. Scrape away linoleum, laminate or adhesives. Remove grout from time. Sand wood or metal. You can even saw into wood 3/8" deep! Perfect for remodeling and repair jobs.
Unique spindle and blade arbor design positively locks the blade in 7 forward positions for added versatility
Comes with 3" triangular sanding pad and sandpaper for metal and wood
Die cast aluminum housing
Paddle switch for variable speed control
Check out these compatible accessories!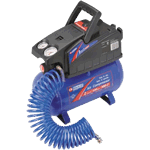 Item # 93796
Great for inflation, brad nailing, stapling, and air brushing! The two gallon storage tank provides greater stored air power. Includes 25 ft. recoil hose, needle, needle adapter, two inflation nozzles, and air chuck.
Eliminates the pulsations caused by piston action
High quality, one-piece manifold
User-friendly control panel
Sturdy retractable handle for comfortable handling and simple storage
Conveniently placed gauges for easy air pressure monitoring
Cooler running motor
Automatic shut off
Accessory storage bin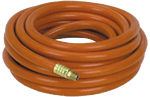 Item # 6930
Reinforced with high strength Vytacord®, this hose is essential for heavy duty and high pressure applications.
Weather- and abrasion-resistant cover
Bright safety color meets OSHA specifications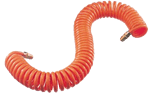 Item # 47
This 25 ft. air hose snaps back to a compact 20" coil for easy storage. Includes non-corrosive brass male fittings.
100 PSI working pressure
Oil resistant polyurethane construction
High visibility color
1/4" NPT air inlet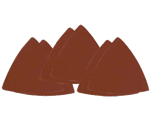 Item # 65985
These 6 triangular sanding sheets are specifically made for our 120 volt Multifunction Power Tool, and have a hook-and-loop backing for easy positioning and removal.
2 Fine grade sanding sheets
2 Medium grade sanding sheets
2 Coarse grade sanding sheets
7/14/10 13:28