How to Use Coupons Online
Have you received an email or print coupon that you'd like to redeem online?
Below is the Easy 3 Step process to get your savings now! If you have any questions about using your coupons online, please contact our Customer Service Team. Call 1-800-444-3353, Monday thru Sunday, 6am to 6pm (PT) or email us at cs@harborfreight.com.
Step 1
Add the Item to your shopping cart.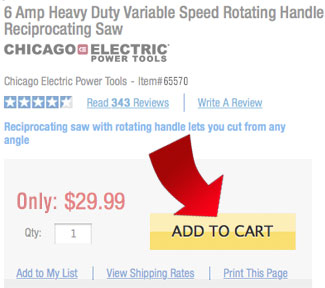 Step 2
On your Print Ad or Email you will see a bar code with each coupon. Underneath the barcode is a series of digit numbers which is the Coupon Code. Use the first 8 digits of the Code.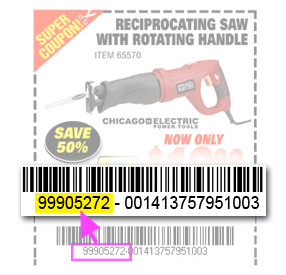 Step 3
On the Shopping Cart Page, enter the first 8 digit numbers of the Coupon Code in the box next to the product and click "Apply".