Detailed Information on Putting Together Your Own Outdoor Solar Kit
Did you know that you can set up an outdoor solar panel kit to charge your car battery, run laptops or power electrical items in campgrounds where generators are forbidden? In fact, setting up an outdoor solar panel can not only be practical but also save you a considerable amount of money on your utility bills. And we all know how important saving money can be these days.
Harbor Freight has the tools and tips you need to set up a solar power system
Although many consumers flirt with installing solar panels at home to save on energy costs, most people never act upon it. This is a shame because installing solar panels can be a fun, simple and fulfilling do-it-yourself project.

Solar panels are often seen to be too expensive, but the 45 Watt Solar Panel Kit by Chicago Electric is under $250. Competitor solar panel products sell for a lot more. If there were ever a time to give solar power a chance, this is it! Follow our step-by-step instructions below to set up your own solar panel!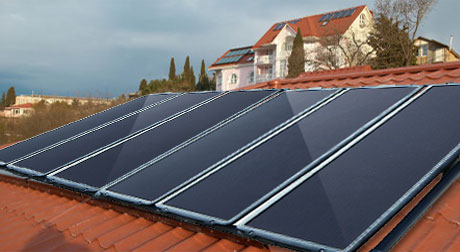 Step 1: Find a spot near your home that gets good light
The Chicago Electric 45 watt solar power kit works optimally with direct sunlight, so for best results, find a spot near you home that has several hours a day of direct sunlight. The panel will work with indirect sunlight too but will take longer to gather power.
Step 2: Unpack and mount your panel
This 45 watt solar power kit comes with practically everything you need to get started: lights, battery clamps, a 12-volt DC socket and even mounting hardware! Just follow the mounting instructions in the Chicago Electric 45 watt solar power kit.
Step 3: Connect solar panels to the included regulator
Once you've found the right spot for your solar panels and mounted them properly, connect the lead wires coming from the 45 watt solar panel kit to the solar terminals on the regulator (included). Again, check the manual for more detailed instructions. Now all you have to do is wait for the panels to start charging up.

You also can connect up the three included 15-watt solar panels to either a battery or power inverter (each sold separately) You can find a great 400 watt power inverter or 12 volt DC storage battery online at the Harbor Freight website.